Commercial/Industrial Security Solutions
Automated Gate Services opened its doors in 1980 with a vision of providing perimeter security solutions for commercial and industrial clients throughout Southern California. We have a dedicated team of project managers, field engineers, low voltage technicians, access control technicians and crash rated product specialists to provide all levels of electric gate services. We can help you resolve high-security challenges with vehicle denial bollards. We can develop a comprehensive perimeter security plan for commercial and industrial facilities. We have fabricated and installed hundreds of multi-family automated gates and we will provide each client with access control technology that matches their system.
From installation to maintenance, AGS provides unparalleled security solutions. Speak with us today to see how we can help with your business.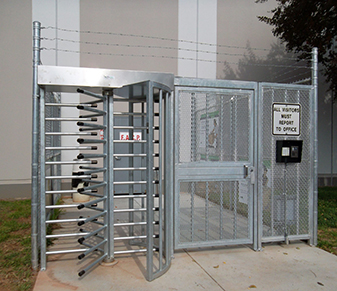 AOA Gates
The Airport Operations Area (AOA) is the high security part of all airports. High security fencing is required for the AOA as well as automatic gates. We include high speed Wallace Cantilever and rapid folding gates in many of our high security locations. Wallace provides integrated rack and pinion technology for smooth and secure operation. We also suggest VMag High Velocity gates. VMag uses an electro-magnetic drive with no moving parts, no chains, pinch wheels, springs, cables or gears. This technology eliminates lubricants and is also a rapid open/close high security gate solution. And finally, HySecurity offers steel sliding gate with individual operators matched to each gate, high speed opening and closing up to 3 ft/sec and weight bearing gate up to 10 tons.
High Speed Gates
High speed gates are typically found in locations such as AOA's, ports, chemical plants, military facilities, and other locations that require approved access. Over the last few years technology has begun to play a role with security gate systems. Programmed logic controllers (PLC) can be used to automatically open and close a security gate or entry point. When a vehicle or individual has a programmed device matching the logic of the gate, the PLC will recognize an authorized entry and automatically open and close. This can be a great solution for maximizing staffing.
Learn more about how AGS can help you with your high speed gate installation. Contact us today for a consultation.
Cantilever Gates
Automated cantilever gates are generally used in facilities where a track embedded in the ground to guide the opening and closing of the gate is impractical. This could be because very heavy loads cross through the gate regularly or the ground is uneven. Cantilever gate systems can be fabricated for high security solutions in steel or aluminum and in widths up 120 feet. Cantilever sliding gate systems are used most often in industrial/commercial facilities, airports, chemical plants, and other high security locations.
From a design perspective, a traditional sliding gate has wheels on the frame bottom that connect with a track embedded in the ground. A cantilever gate system is supported via a vertical foundation and the rollers are encased in a top horizontal box. Because the rollers in a cantilever gate are not exposed to the elements there is less maintenance with this type of security gate system.
Parking Control
Parking control systems are required in many commercial locations including airports, schools, municipalities, gated housing communities, and public venues. Parking access control can be as simple as a using a parking lot barrier gate armor boom barrier, opening and closing with a pre-programmed fob or manual keypad for automatic entry. In some facilities custom guard booths may be required to afford additional security. After confirming authorized entry, a guard will manually manage ingress.
In commercial parking garages and office buildings sophisticated cloud software is available to install parking and revenue control systems (PARCS). These are integrated parking control solutions that operate autonomously. Installing a PARCS system eliminates cashiers by placing programmable terminals throughout the facility where users may pay the fees, receive a receipt, and quickly exit.
Overhead Gates
Overhead gates are primarily found in commercial and industrial facilities. The materials are generally steel or aluminum and can be a solid surface or open grated system. Before recommending an overhead security gate we will evaluate the site layout and customer requirements. Other than providing increased security and safety these systems follow the normal process for gate installation. This process includes selecting materials and gate design, match the gate with the appropriate operators and identify access control options that meet the needs of the business. We use the newest technology in every overhead security gate we install which gives our customers a system matching the unique requirements of their business.
Perimeter Security
Perimeter security is an important consideration for facilities that require approved access for the safety of their staff and visitors. It's important to provide security for infrastructure, materials, and specialized equipment. Some of the solutions for protecting your facility include bollards that can be raised to prevent entry attempts by high-speed vehicles, high speed crash wedge barriers, crash beams for low traffic areas, anti-ram and anti-climb fencing and crash walls. Technology can be added to the above by installing CCTV security systems, motion detector sensors and electrified fencing. Security is more important today in many locations and Automated Gate Services can assist clients with a system that meets your requirements.
Turnstiles
Turnstile access control security systems are used extensively in amusement parks, sports stadiums, commercial office buildings, schools, public transportation, and local government. There are many turnstile options to choose from depending upon your needs. There are optical turnstiles that receive an electronic footprint from each entrant as they attempt to enter a secure space. This turnstile access control can be fabricated in architecturally pleasing designs and still prevent illegal entry.
ADA gates are a turnstile solution for disabled individuals that operate at appropriate height levels in compliance with the standards of the Americans with Disabilities Act. In public transportation we quite often use waist high turnstile systems. Full height turnstiles can be fabricated to allow only one person at a time enter. They can also allow for rotating one way only or swing freely allowing for two-way traffic.
As with any gate automation or security product, turnstile access control systems should be customized to your facility's requirements. You should also select an experienced installer who knows your system and after installation is available to maintain and repair actively used turnstiles.
Vertical Lift Gates/Vertical Pivot Gates
Vertical lift gate systems provide the security your facility requires and are a great solution for sites with limited space or where a swinging gate or sliding gate will not work. Also known as vertical pivot lift gate systems, vertical gates are the perfect solution for security in tight spaces. We will assist with design options for each facility, match operators to the specifications of your gate, and give you access controls for the perfect vertical lift safety gate. In addition to designing, fabricating, installing, and automating your system, Automated Gate Services will provide 24/7 support to keep you operating safely.